I'm sharing a super easy and fast recipe for Enchiladas for Hispanic Heritage Month. My familia is from Mexico, and we love eating food! There are so many ways to make enchiladas, but this is they way my family makes them, and its all about tradition, right? In my family we try to keep things simple since there is always so many around to feed. So this past weekend my mom and dad helped me put together a yummy lunch for the family helping to celebrate my niece's 8th birthday.
Lets start off with what you'll need:
Sauce
8 Guajillos Chiles
1 tsp salt
1/4 tsp oregano
1 garlic clove
1 tbsp of masa harina (or all purpose flour)
1 tbsp of corn oil + additional for cooking tortillas
Filling
1 Large Yellow Onion
1 lb of Cheese (I use Chihuahua but you can also use Monterrey Jack)
4 dozen corn tortillas
Take the stems off and seeds out of the chiles. (keeps some of the seeds to add back if you desire more heat). In a small sauce pan add the chiles and cover with water. Heat till the chiles appear soft. This will also help bring out the flavor.
In a blender add the chiles, the boiled flavored water, about 1 1/2 cups. Add the salt and the garlic clove and flour. Puree until well blended.
In a large saucepan add 1 tablespoon of corn oil. Using a mesh strainer add the blended ingredients to the pan. Bring sauce to a simmer and reduce heat to maintain the simmer. Cook for 10 minutes. The sauce is now ready to be used.
While that is cooking you can grate the cheese and chop the onions. Mix them together and this is your filling.
In a skillet add enough of oil to cover the bottom of pan. Once the oil is hot you can begin to fry the tortillas. Move fast so that the tortillas don't crisp up, we are just trying to get them soft to be able to roll up.
Once you have a good amount done you can begin to assemble them.
First dunk the tortilla in the sauce, wiping away any excess.
Then add the mixture of grated cheese and chopped onions
and lastly roll it up!
Add a side of rice, top with crema/sour cream, and cheese and enjoy!
Want to keep the fun going? Check out fun recipes and activities inspired by Hispanic Heritage Month below.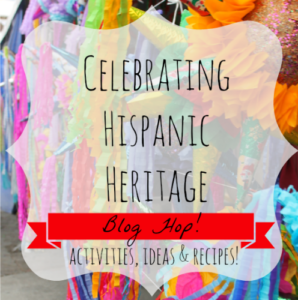 Throughout the month, go to
Inspired by Familia
to get the updated schedule and follow along. Here are the wonderful Hispanic bloggers participating
Mama Latina Tips
,
Mommy Maestra
,
Embracing Diversity
,
Your Sassy Self
,
Hispanic Mama
,
Guapologia
,
Mama Educa
,
A Vivir LA
,
Inspired by Familia
,
One Post At a Time
,
La Cooquette
,
Spicy Latina Mom
,
Nerdvana Kingdom
,
LadydeeLG